JKU International Master's Program Informatics
at the Softwarepark Hagenberg
Student Testimonials
This program combines the best of both Worlds; Industry and Academia. It fully concentrates on developing the student's technical, research and soft skills and prepares its future graduates for both career paths as desired. As a graduate of this program, I have tremendously benefited from the vast majority of courses offered and I truly owe my personal success and development to this program.
Mostafa Elsaie, Sr. Software Engineer (2011 - 2012)

My year in the ISI program was one of the richest experiences in my life. I had my pick from the variety of top-level courses offered at the JKU and the Software Park in Hagenberg, by professors who are widely known and respected. The program provides excellent mentorship and a great balance between structure and flexibility. I never felt alone or overwhelmed. And most of all, I learned a lot from Bruno Buchberger himself.
Noran Azmy, Software Engineer at Bloomberg L.P., London (2009 - 2010)

This is truly unique master program in IT with great opportunities and future. It combines all essential points: interesting and what is more important - useful and totally applied courses, possibility to write master thesis together with one of the IT companies and contribute to real project, driven atmosphere and of course great people from all over the world. For me personally it was one of the very important step in life. I am very grateful for everyone how made this program possible. I would encourage students all over the world to take this change and be part of a our big ISI family. :)
Liliia Chuba, IT Business Analyst (2012 - 2013)

The master program provided me with awesome skills to professionally grow in an international environment just in the center of Europe. I highly appreciated that the entire program is held by international renowned Professors, great Mathematicians and Computer Scientists. Additionally, it is a flexible program where I went in the direction that best suited my goals by just selecting with the help of my supervisor the appropriate subjects.
Pablo Gómez Pérez, Senior Scientist - JKU (2012)

I am from Indonesia. I enrolled in the program in 2010 until 2012. The program was great and has helped me open my IT horizons wider and deeper. Now, in my current profession/position, I use the knowledge of data warehousing, data mining and machine learning that I obtained from the program a lot.
Suprihanto, Lecturer at Bandung State Polytechnics, Indonesia (2010 - 2012)

To say that the ISI program is a great opportunity would be an understatement. Not only did we have the chance to receive top level education in Informatics, but also we gathered skills and expertise that helped us to draw our own future both personally and professionally. Kudos to our mentor Prof. Buchberger for such a significant, life-changing achievement.
Ahmed Labieb, Customer solution engineer - Dynatrace (2010 - 2011)

ISI Master program widened my horizons and improved my technical- and soft-skills by taking part in various practical projects. It was an amazing chance to meet extraordinary persons from various corners of the world, make friends for a lifetime, and develop professionally in a global business-like environment.
Andreea Buga, Research Fellow (2013 - 2014)

The ISI Program was very useful to me. The major advantage of the program is the perfect method of applying academic research methodologies in actual industrial needs. The courses are well-selected by the academic supervisors to match the exact domain of the industrial need for each project. Also, the entrepreneurship and soft-skills courses were very helpful. I am very grateful that I had the opportunity to join it.
Ahmad Hisham, Founding a Software Development Startup (2010)

Great opportunity to study, collaborate and communicate with brilliant students all over the world and learn from the best.
Yu Hsuan Tsai, Manager of R&D Department (2014 - 2016)

ISI program is an outstanding system that forever broaden my horizon and changed my life. The combination of industries and theories gives you the opportunities to actually solve the industrial problems with innovations as a Master's student in Informatics. So don't hesitate! Come and change the world with all the talented students around the world in ISI program!
Ti-Ho, Chang, Software Engineer (2012 - 2014)

International Studies in Informatics (ISI)"" program (now ""Universal Computing and Business"") was a great experience for me. Through this master program I had the opportunity to study abroad the subjects that were interesting for me and appropriate for my master topic. The seminars taught by Prof. Bruno Buchberger were a unique experience!
Roxana - Maria Holom , Researcher & Software Engineer (2010-2011)

I got a great chance to pursue my PhD at the JKU when I finished ISI. It's the right place for any graduate to learn more, find their career path and make new friends.
Deena Awny, (2015)

Being a student in ISI program was one of the best experiences in my life. It affected me positively on both professional and personal levels in a multicultural environment. It exposed me to a world of opportunities and enriched my life with true friends.
Maha Aburahma, (2009)

The Masters program provided by ISI Hagenberg was a perfect opportunity for me to further deepen my academic knowledge after having just finished my bachelor studies in Egypt, and also provided me with a unique opportunity to practically apply my knowledge in the industrial area. During my Master studies, I worked with one of the biggest firms world wide to help them solve a computationally hard problem. My supervisor in the MSc program tailored the course work to fit the needs required by the practical project. After finishing, I found multiple opportunities in the EU and the USA to further advance my career, whether that was academically or industrially.
Amr Noureldin, Senior Data Engineer (2008 - 2009)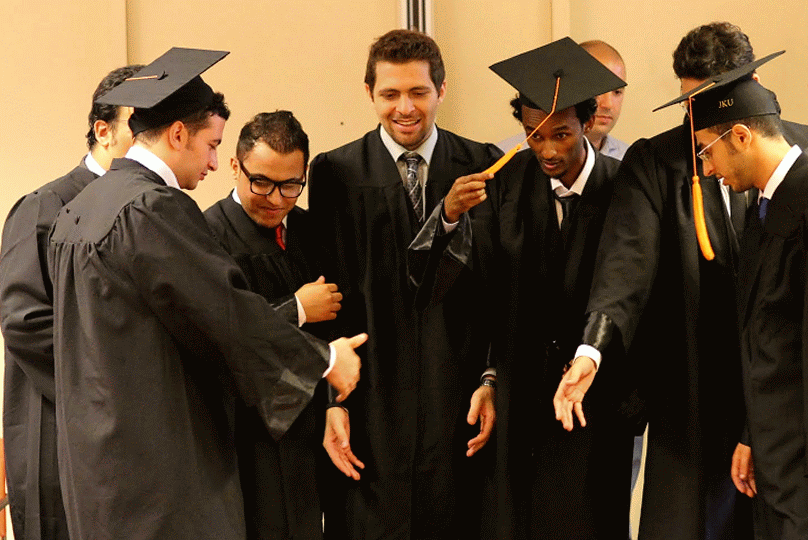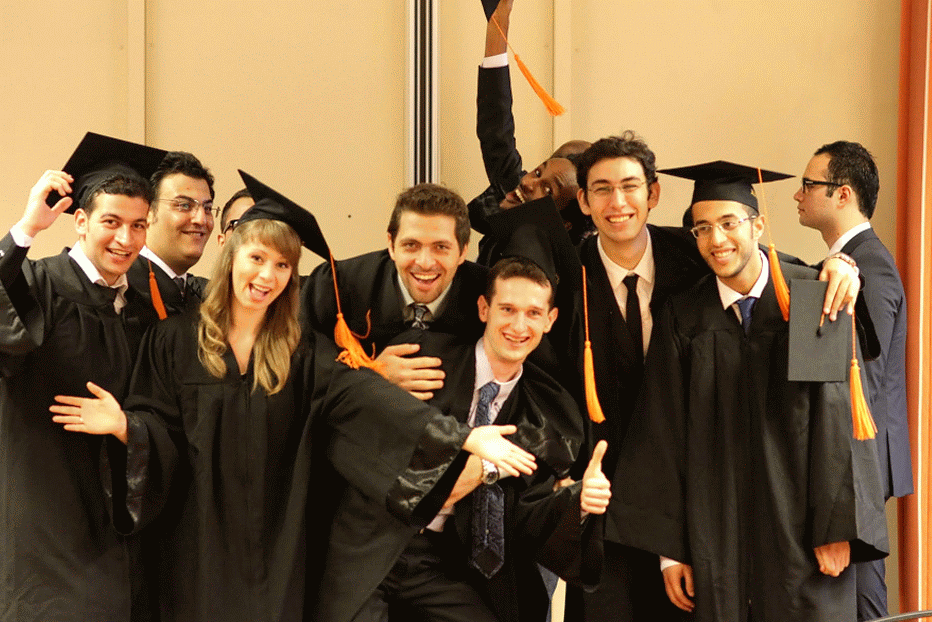 "The new connections are the most valuable achievement."
Olimpiu Pop, MSc, Romania (2009)
"The ISI Master's study was extremely useful and beneficial to me as I met many young and highly motivated individuals and I made important contacts in relevant areas" ... "I enjoyed it a lot by making new friends and travelling around Europe."
Anna Simon, MSc, Hungary (2009)
"Beside my professional development it also changed my personality: I became more communicative and determined."
Hanan Shehata, MSc, Egypt (2010)
"The Acting in society course, I did have fun with friends."
Daisuke Minematsu, MSc, Japan (2010)
"It represented my first research project, it gave me the opportunity to continue my studies in the same domain. Also, during this year I came into contact with important people."
Nagy Reka, MSc, Romania (2008)
"Taking part at meetings, communicating with people in the IT industry. Acting in society especially was very interesting. Nice leisure activities: swimming, skiing, mountaineering, parties, walking, volleyball."
Kenji Miyamoto, MSc, Japan (2008)
"New viewpoint, useful, practical, real-life examples, high quality lectures in English"
Maha Aburama, MSc, Egypt (2009)
"On a personal level I learned a lot about Austria and Europe, meeting different people is definitely a plus."
Plamen K., MSc, Bulgaria (2009)
"During ISI I learned how important knowledge is in IT. I learned how to use the research sector to progress in the software industry."
Mikhail Kozhevnikov, MSc, Russia (2009)